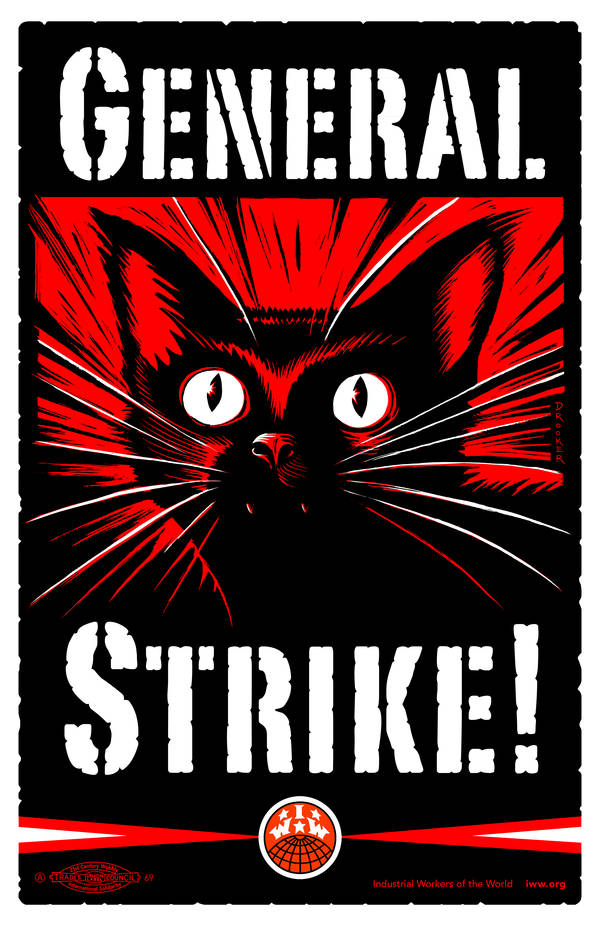 Unions, and the broader "the people," just lost big time in Wisconsin. We lost in two ways: yes, they pushed through that bill. But more importantly, we lost in that they were able to just ignore such massive protests.
I believe we need a general strike. There's this cliche, "an injury to one is an injury to all," that is true as hell. Capitalism has the ability to buy political power and military might. All we have is each other. But yes, we are the cogs that make up the infernal machine. (Even me, a freelance book designer).
Yes, American unions are corrupt. Yes, they are just another layer of bureaucracy negotiating on behalf of itself first and foremost and the worker only as a distant second. But it's not a coincidence that the only really living-wage blue collar jobs are the union ones. I would love to see the American union strong again, and largely I think that will only be done by abolishing these half-assed unions and looking towards unions like the IWW, who have the stated purpose of the abolishing of wage labor. But those of us who believe in collective power need to stand together when our friends are attacked, like we are being attacked in Wisconsin right now. I believe the mistake we made is that we didn't generalize this struggle. We kept it in Wisconsin. But if the entire of the working class of the US was in upheaval over this upset? Then there is no way they would be able to outlaw collective bargaining.
My friend John Duda edited a book about the Spokane free speech fights of a century past, Wanted! Men To Fill The Jails of Spokane!. In the introduction, he makes a fantastic point: the IWW wasn't fighting because they cared on some political and personal level about the sanctity of free speech: afterall, they wanted to see a revolution, not just mild reforms. But free speech was important tool that they had to fight for that revolution, and damned if they were going to let anyone take it away from them. This is how I feel about collective bargaining. I don't want to bargain with the powers that be, I want the powers that be to stop being. But a stronger working class is one of the things we might want to have in order to get there.
Power concedes nothing without a demand. It never did and it never will.
Frederick Douglass