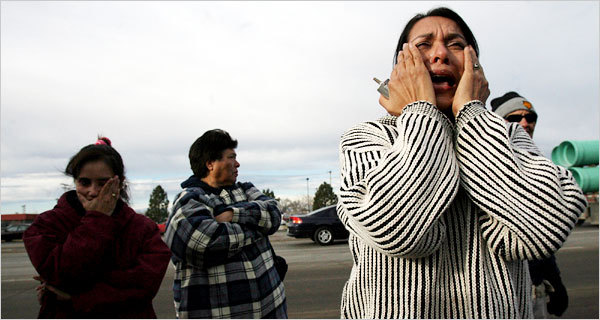 So I found out today, after sorting my way through election nonsense, that illegal immigrants swept up in ICE raids are facing ridiculous charges.
The illegal immigrants arrested must plead guilty to lesser counts or face indictment on charges of aggravated identity theft and possible mandatory two-year prison terms.
That is to say that immigrants, who often use fake SS numbers, can be treated the same as someone who steals someone's SS for the purpose of emptying their bank account. There is clearly a quantitative difference here.
As for the immigration issue itself, for anarchists it plays out fairly simple: we don't respect the right of the nation-state to exist, let alone enforce arbitrary, war-won borders (most of the places inhabited by Mexicans, for example, are places that were historically part of Mexico). But let's take it in a modern context… the anti-globalizationists problem with this insane level of immigration enforcement is the hypocrisy of opening borders to resources but not to people.
Immigration exploded after NAFTA, the North American Free Trade Act, which "liberalized" our monetary exchanges with Mexico. Basically what happened is that we, as the richer nation, gained the ability to extract resources from Mexico without paying tariffs or other fees that are used to insulate an economy. Within the USA, we can see how this plays out in ghettos: by putting in a McDonalds, we are essentially siphoning money out of the local neighborhoods.
So we're able to take Mexico's wealth, but when Mexicans come to the USA for a chance to earn a decent (hardly decent) wage, we throw them in jail as if they had stolen all of someone's money?